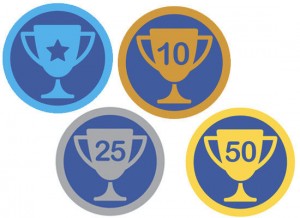 While on a day trip this weekend to Wilmington, NC, I stopped for dinner in a little pub called The Copper Penny. The food was good and it was packed to the gills, but that's not what was remarkable about this pub in my book. What WAS remarkable, was social media put into real-world practice at the bar. I nearly fell off my chair with glee.
The bartender had, in her hand, a smart phone. She was using said phone to look at Facebook Places, Foursquare, etc. to see who had checked in at the pub. One of the check ins was the customer who was sitting directly in front of her! She was then able to acknowledge him personally, see a bit of info about him (new in town) and engage with him as a customer on a whole new level.
I left the pub singing "Oh Happy Day!" in my head. This example is the kind of stuff I live for.
What other practical applications of social media have you seen recently?